We attended EduCamp, and here's what we learned…
Our hot takes from EduCamp's sessions on driving transformation with stakeholders, the reality of student journeys, and how not to do inclusive design.
It's been a few days since EduCamp, and we're still buzzing with excitement! 🎉
Here are some of our hot takes:
1️⃣ Darius and UAL's Head of Strategic Ops Bear Shaw opened with the most popular session of the day on 'Stakeholder therapy' to drive transformation in HE & FE.
Working with stakeholders can be challenging, especially when you're aiming to inspire them with your initiatives or facing barriers to understanding 😓
As Darius and Bear emphasised, 'Having different lenses on the problem, understanding stakeholder needs and getting straight to the point can make the difference between success and failure.'
Bear talked through a model that he uses with his teams to help them understand what's most important to stakeholders (and which stakeholders are most important).
Some great insights came from the participants, these included: 
Institutions with big reputations have more change anxiety

You need to find a way to have a continuous conversation

Digital needs to find ways to present itself as a provider of strategic business value rather than just a function or a cost centre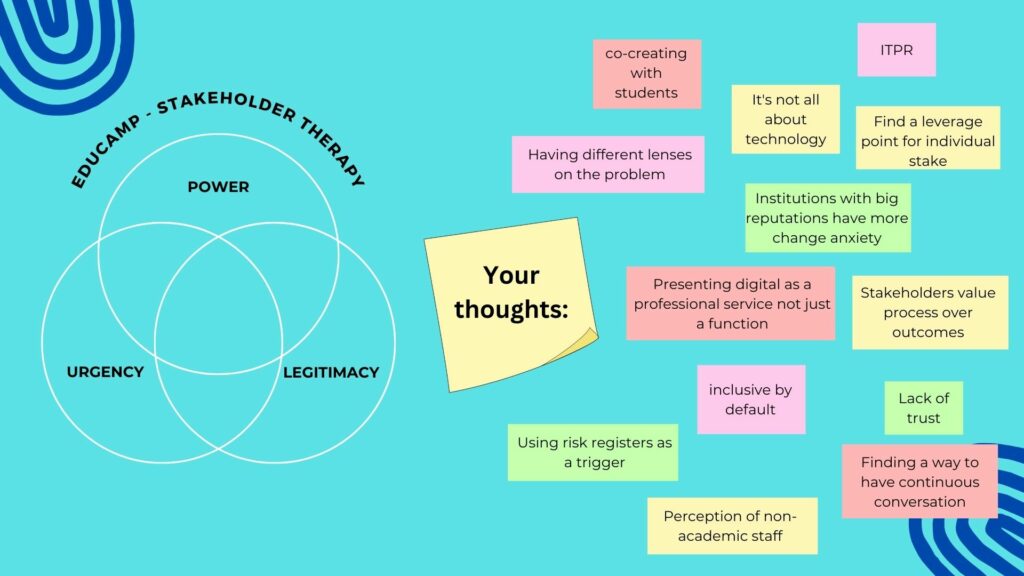 2️⃣ In the next session, we dived into a thought-provoking discussion on 'The student journey: is it fiction or fact?" led by Jean Mutton and another wonderful presenter (unfortunately, I have misplaced the name of one of the presenters – if anyone has the information, kindly let me know).
The conversation revolved around the challenges students face today, particularly when it comes to navigating the complexities of university applications, accommodation, student finance, and more.
One common observation was the confusion that arises while navigating these intricate online platforms. However, an intriguing perspective emerged: some participants highlighted that these struggles extend beyond student life. They emphasized that learning to navigate administrative processes during their academic journey can equip students with valuable skills for the future 🤔
AI also took centre stage during the discussion. We explored both the negative and positive impacts it has on students, such as the misuse and appropriate use of AI in areas like personal statement letters. 
Furthermore, the conversation shed light on an interesting observation: students who experienced the pandemic seem to have undergone a rapid shift in maturity and behaviour, almost as if they went from being 16 to 19 in a matter of seconds. The lack of typical teenage experiences due to COVID-19 has contributed to this age gap, resulting in an increased need for support, particularly in mental health matters.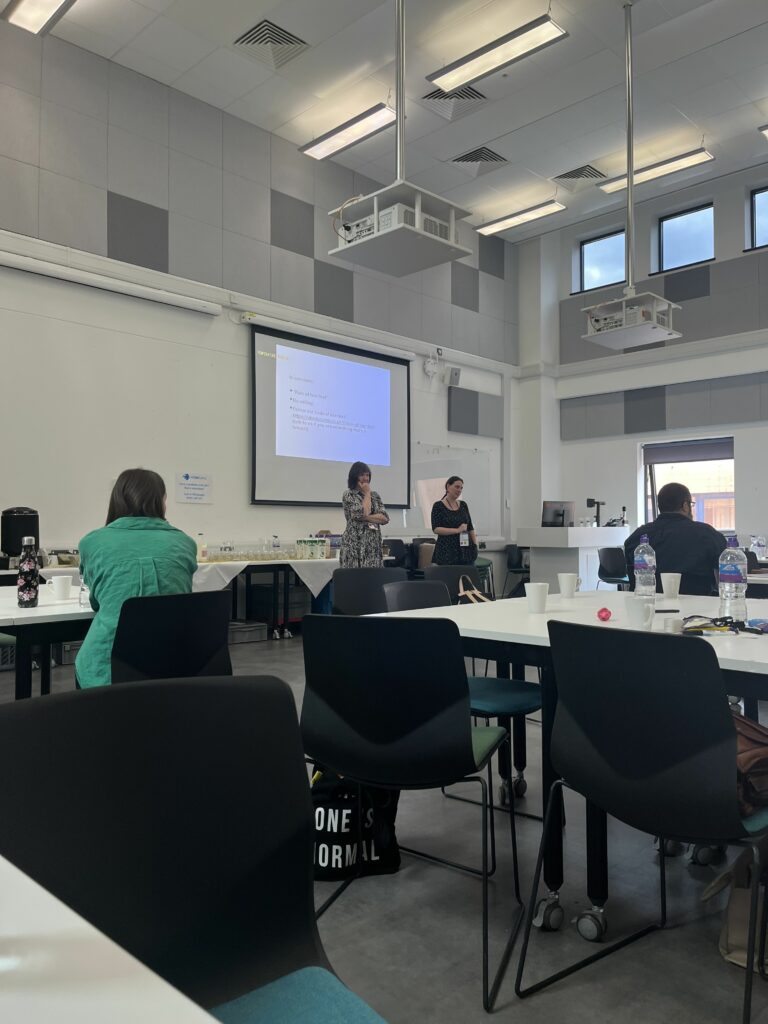 3️⃣ The final session was led by the dynamic duo of @MarkDalgarno and @NeilAllison from Edinburgh University.
Their Change & Transformation workshop took us on an exhilarating ride, challenging us to think outside the box and explore ideas for sabotaging change and making it less inclusive, less agile, and less user-centred.
This workshop had a distinctive 'anti-problem' vibe, a signature approach that Mark loves to employ when teams find themselves stuck, running out of ideas for solutions. The energy in the room was palpable as participants unleashed their creativity and shared hilarious ideas to tackle the problems at hand:
not telling anyone about the change in advance, 

naming and shaming people who challenge the need for change, 

choosing technology first before researching the problems – and unfortunately a very common approach, 

changing everything for everyone all at once.
The real magic happened when participants compiled all the ideas on the board. Mark and Neil then encouraged us to collectively brainstorm solutions for each of these seemingly absurd challenges. The results were so creative and surprising!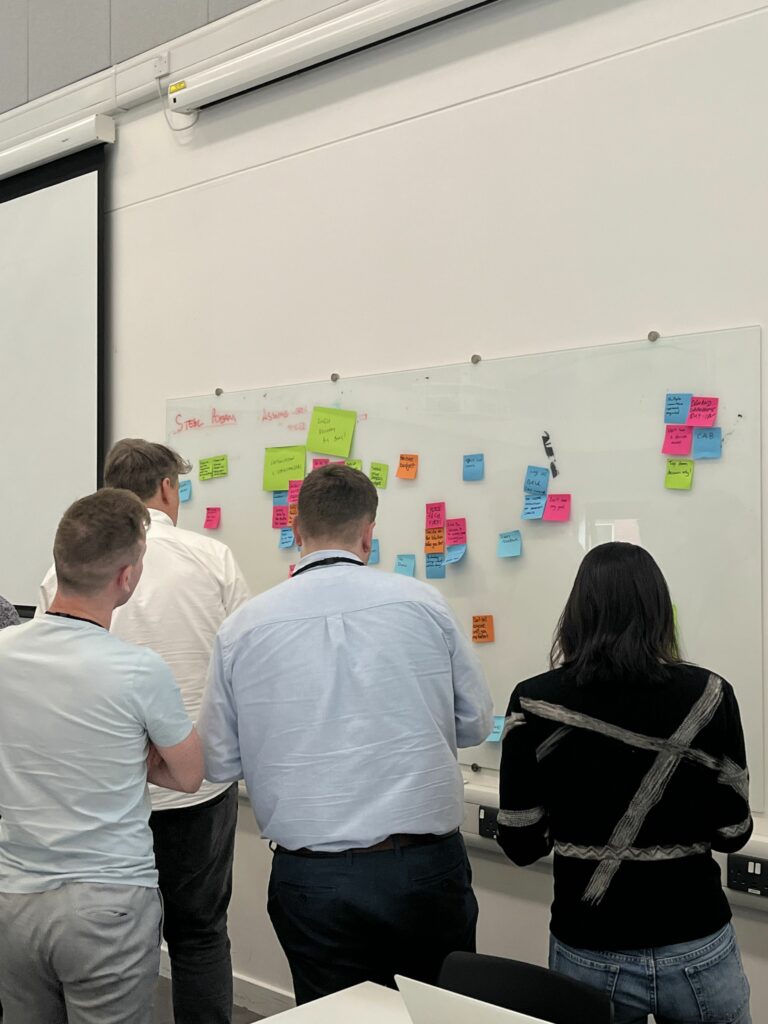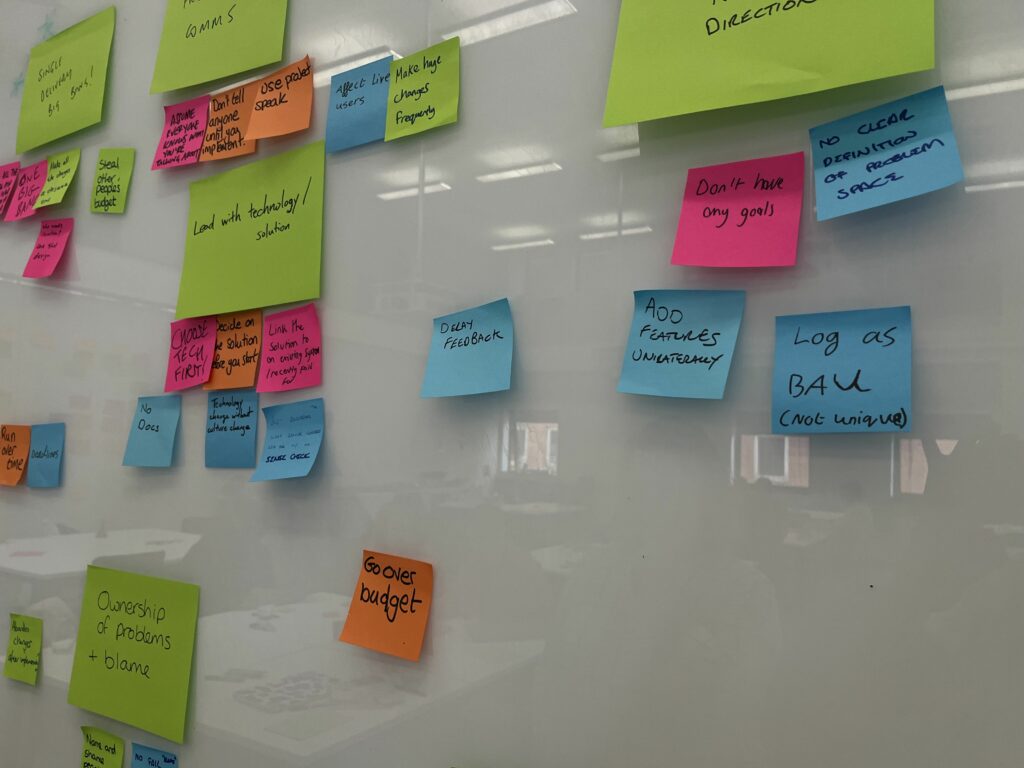 Congratulations to Alex Blandford and co for organising such a great unconference. Fantastic to see 100 people turning up to a brand new event – can't wait for the next one! 💬✨
Thanks for reading,
Barbara